If you're looking for an entry-level air fryer brand then NuWave is one of them.
Nuwave air fryers are easy to use and come with a lot of industry-standard features you'll enjoy by paying somewhat less than other brands.
So let's take a look at the best NuWave air fryer models out there.
Best NuWave Air Fryers
Here is the list:
You can read our guide on the best air fryers made in USA from here.
NuWave Brio model 38001 is the best air fryer for a large family. It comes with 14 quarts of space for cooking.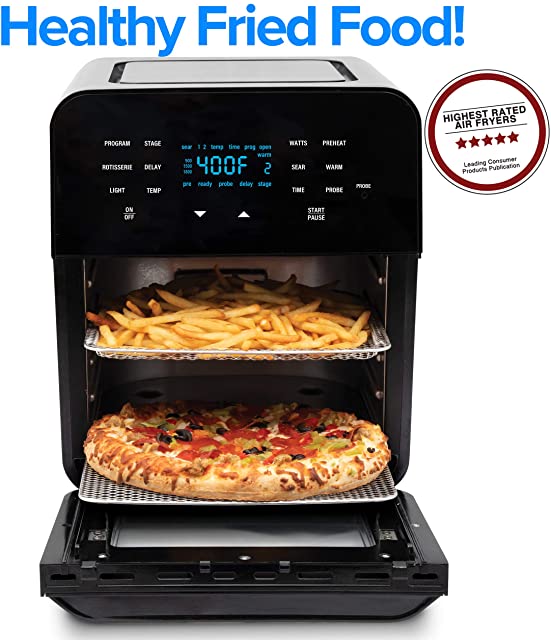 It comes with adjustable wattage of 900-1500-1800. It operates in the range of 60°F/400°F with a 5F temperature increment.
The 14-quart NuWave Brio comes with an integrated temperature probe that controls the cooking cycle based on your food's internal temperature rather than the air fryer temperature or cooks time.
Adjustable in precise, 1˚F increments, the probe turns off the unit when the set internal temperature is reached ensuring you'll never under or overcook your meat, poultry, and fish ever again.
The NuWave Brio 38001 model has 100 recipe settings and an integrated probe that ensures your food is cooked correctly.
It comes with 2 stainless steel mesh racks for multi-level cooking so that you can serve food in one go.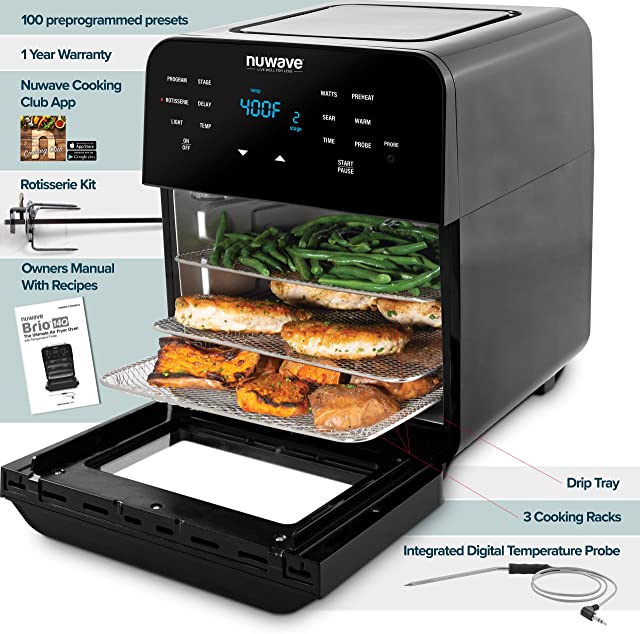 This model comes with a large LCD and has a lot of buttons for sear, rotisseries, pre-heat, time, temperature, and start & pause options.
The item weighs around 22 lbs with dimensions of 13 x 15.4 x 16.9 inches.
The BRIO features high-quality stainless steel racks and a stainless-steel drip tray. All the pieces go into the dishwasher and cleanup is fast and easy.
Every 14Q BRIO includes 3 cooking racks, a drip tray, an integrated temperature probe, a rotisserie kit, an owner's manual with recipes, 100 preprogrammed presets, a Nuwave cooking club app, and a 1-year limited warranty.
The NuWave Brio has built-in safety features which ensure that the Brio automatically and immediately shuts off when the door is removed. And the Brio won't start cooking again until the door is securely closed.
This NuWave Brio 36011 model is one of the entry-level air fryers that you can rely on.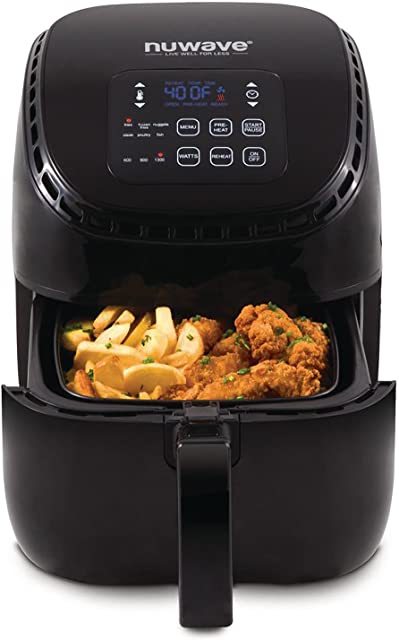 The Brio 36011 model comes with 1300-watt power which is best for new air fryer users. As most of the new users trying to figure out how to use an air fryer without burning food, the temperature range of 1300-1500 watts is best for them.
With a cooking range from 100F to 400F degrees, adjustable in 5-degree increments, you can air fry, broil, roast, grill, bake, reheat, and even dehydrate right on your countertop.
The 3-quart (2.84L) Brio is the perfect size for cooking 1.5 pounds of French fries, 2 chicken breasts, over 1 pound of wings, and much more. It's compact for small apartments, RVs, and dorm rooms.
The model comes with 6 preset settings so that you can cook homemade fries, frozen fries, chicken nuggets, steak, chicken breasts, and frozen fish sticks with the simple press of a button.
The model has to preheat function which ensures your food is perfect stays moist, tender, or crispy. The reheat function keeps foods at 360°F for 4 minutes for leftovers that are evenly heated without drying out as they would be in a microwave.
The NuWave Brio's Fry Pan Basket and Base Tray have a PFOA-free non-stick coating which helps ensure food won't stick, making cleanup a breeze. Plus, all removable parts of the NuWave Brio are dishwasher-safe, making cleanup even easier.
The 6-quart BRIO is the perfect size for cooking 3 pounds of French fries, 4 chicken breasts, and over 2 pounds of wings. This NuWave Brio air fryer is for a family of 3-4 people.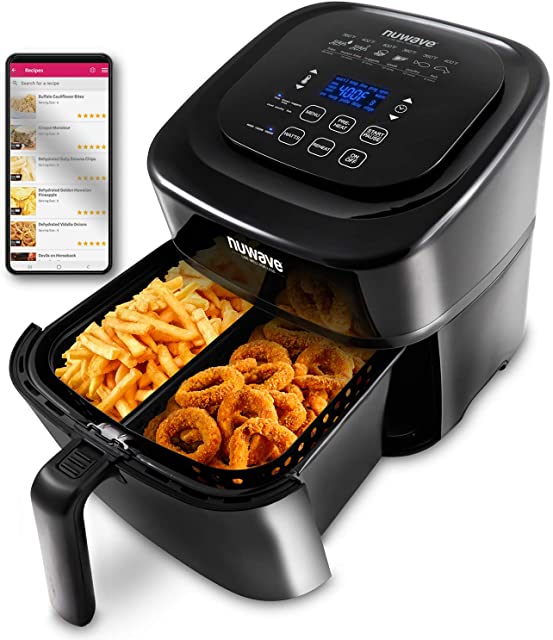 The model has much or less the same function as the 3-quart air fryer. The only significant change in cooking space differs from this model from the 3-qt model.
It also comes with a preheat & reheat function, and 6 pre-set cooking settings. The basket is also divided into two parts on the inside, as you can see from the below image.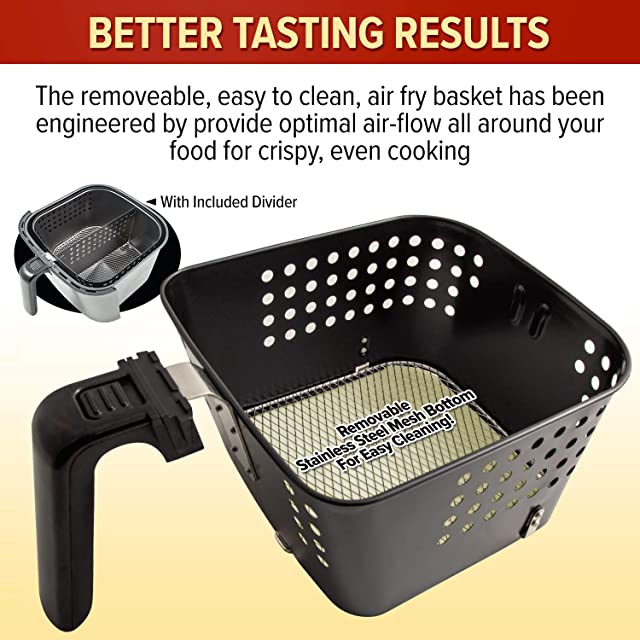 The 6-quart BRIO is the perfect size for cooking 3 pounds of French fries, 4 chicken breasts, and over 2 pounds of wings easily.
Comparison Chart
Features
4.5-quart Brio
6-quart Brio
14-quart Brio
Cooking Capacity
1lb French Fries
1 (4lb) Chicken
1.5lb French Fries
1 (4lb) Chicken
2lb French Fries
1 (7lb) Chicken
Wattage
Adjustable 1500, 900, and 600 watts
Adjustable 1800, 1500, and 900 watts
Adjustable 1800, 1500, and 900 watts
Temperature Range
100°F-400°F
100°F-400°F
60°F-400°F
Unique Features
Delay, Preheat, Warm, Sear & Stage Cooking
Delay, Preheat, Warm, Sear & Stage Cooking
Delay, Preheat, Warm, Sear & Stage Cooking
Temperature sensor for consistent cooking temperature
✓
✓
✓
Integrated digital temperature probe
✓
✓
✓
Dishwasher-Safe
✓
✓
✓
Stainless Steel Accessories
✓
✓
✓
Includes preheat, rotisseries & Sear
✓
✓
✓
100 Preset Recipes
✓
✓
✓
Questions related to NuWave Air Fryer
Is NuWave Air Fryer Dishwasher Safe?
NuWave air fryer parts are dishwasher safe. Parts like base racks, baskets, and nets all are safe to clean in a dishwasher. You can also clean them by using a damp cloth as they have no Teflon coating.
Can you put oil in a NuWave air fryer?
While no oil is required for an air fryer and that's the purpose of using an air fryer, you can add a teaspoon of oil to add texture and flavor to your food. Make sure you're using it in small quantities.
Is NuWave Air Fryer Made in the USA?
Yes, NuWave air fryers are made in the USA. The NuWave, LLC registered address is 560 E Bunker Court, Vernon Hills, IL 60061, United States of America. For customer support, please call 1-877-689-2838, Mon-Fri 7:30 AM to 7 PM and Sat 9 AM to 5 PM CST.
Conclusion
We hope that you liked our NuWave Air fryer reviews here. If you're an existing air fryer user then check out model 38001 – the model comes with 14 QT cooking space, 100 pre-set recipes, and takes around 13 (L) x 15.4 (W) inches of space in your kitchen.
For beginners, especially teens and workers who just moved to a new house for studies or a job the best model is 36001 which comes with 3 qt cooking space and 6 popular pre-set cooking recipes.
Another great option would be the 37001 model with 6 qt cooking space -best for camping & RVs.