If you're like me and want to buy an air fryer that's made in the USA, then this article is for you.
I don't mind paying extra if it's manufactured in the US. It'll support American families and will strengthen our society overall.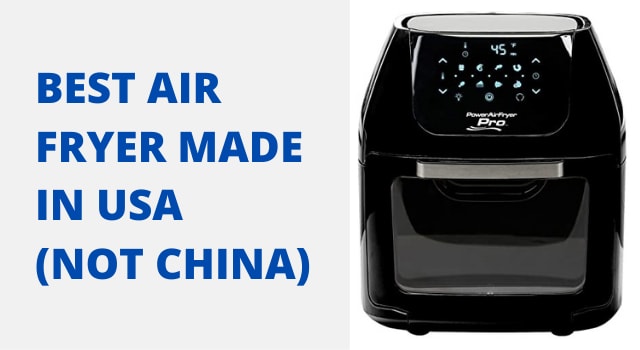 But is there any air fryer made in the USA, not in China? Let's find out:
Best Air Fryer Made in USA
We started our research with the most popular air fryer brands like Ninja, Cosori, NUWAVE, GoWISE USA, Instant Vortex, PowerXL, etc. Then we further looked at the model from these top brands.
Some of the products that we specifically looked at:
While most of these are manufactured in China but some models are made in the US.
Why is most Air Fryers Made in China?
China is the global hub of electronics skill sets. The manufacturing costs are way much less in China than in any other part of the world.
Even Apple manufactures their product in China and sells them worldwide. So most of the time it's the brand that's providing value to the customer by ensuring product quality and satisfying customer support.
The models mentioned above are some of the best air fryer models out there and their product quality made them the top choice for many of us.
If you're looking for an American-made air fryer, not from China, then Chefman Digital 6.5 L Air Fryer (Amazon link) is the one you can go for.
Top USA-made Air fryers list
Instant Vortex air fryer from Instant Appliances brand is something that has over 32k ratings on Amazon.com at the time of writing this article.
Its popularity and quality helped this brand to be a big air fryer brand in the US. However, this Instant Vortex plus air fryer is manufactured in China.
Support Quality: A good product is judged by its after-sales support and service. To obtain service under warranty, please contact their customer service center at 1-800-828-7280 or by email at support@instantappliances.com.
If they are unable to resolve the problem, you may be asked to send your appliance to the service department for quality inspection.
Ninja is another brand that has some of the best air fryer models like the AF101 one. With over 20k ratings (at the time of writing) this Ninja AF101 model clearly showed that they are the market leader in this category.
However, Ninja air fryers are not made in the USA. They are manufactured in China.
Support Quality: You can call 1-877-646-5288 to have a Customer Service Specialist assist you. Please note, you must call 1-877-646-5288 to initiate a warranty claim. Return and packing instruction information will be provided at that time.
NuWAVE is another well-known brand with quality products and a superior support team. The listed model has over 3.2k ratings*, showing its popularity & quality.
The product is also not from the USA, it's from China.
Support: Our customer service representatives are available to assist you with any questions or comments you may have. To speak with our live agents, please call 1-877-689-2838, Mon-Fri 7:30 AM to 7 PM, and Sat 9 AM to 5 PM CST.
PowerXL is another air fryer that came into the limelight in August 2020. This is fairly a new model and is popular as seen on the tv air fryer.
According to the research on Amazon.com listing QNA, it is made in China.
Support: We didn't find any contact details on the listing page. Even though no PowerXL air fryer user manual was found on the site, very disappointed with the brand.
Chefman is another popular brand in the air fry sector. This digital 6.5 L air fryer has received over 1.2k ratings* and was first released in March 2018.
As per the listing QNA, it is made in the USA. Chefman Digital 6.5 L air fryer is made in USA.
Contact info: Chefman telephone helpline (888)-315-6553 is available for questions or technical assistance: Monday-Friday 9 am to 5 pm EST. Customers can also receive support via email: customerservice@chefman.com.
TaoTronics air fryer is another popular model that comes at $120*. This 1750 watts air fryer comes with 11 preset settings for hassle-free cooking and has 6 qt. cooking space.
As per our research, this model is also made in China and not in the USA released in September 2020.
Support info: 1-year warranty provided. Email them: support@taotronics.com
The last product that we've researched is KOIOS 39006 Air fryer. The Koios 39006 air fryer is under the $100 range and is the most affordable product on this list.
The 1800 watts powered air fryer has 7.8 qt cooking space with 4 preset and 6 menus for beginners.
However, this Koios model is also manufactured in China.
Support: It has a 1-year warranty. Didn't find any manual or service department number or email address on the listing. I will update you soon.
Conclusion
While there are few to no air fryers that are undoubtedly made in the USA, Chefman Digital 6.5 L Air Fryer is one of the models that assemble their product in the US.
We've listed some of the most popular air fryer brands' contact numbers for you. You can call them and ask if their product is manufactured in the USA or not. If not, why not?
By doing this we're going to set a barrier and hopefully, some brands will pick it up and will start manufacturing in the USA.
At least we'll be reliable about the product, right?