If you've always wanted to know toaster oven can be used as an air fryer or not?
Then this article will surely explain how you can air fryer in a toaster oven with the below 5 simple steps.
Air fryers and toaster ovens are very convenient appliances and perform similar functions. However, there are a few differences and some similarities between the two machines.
Let's get started:
Can You Air Fry in a Toaster Oven?
If a toaster oven comes with a dedicated air fryer setting, then you can use it to air fry your food. Air fryers and Toaster ovens operate around the same temperature and in the same methodology.
If your toaster oven doesn't have air fryer settings, try using the convection roast (or convection bake) setting for the same matter.
Toaster Oven benefits over Air fryers
Toaster ovens are good for large meals, as you can fit a lot more chicken wings and fries using 1 to 3 teaspoons of oil, as compared to small air fryers.
Toaster ovens can cook a wider variety of foods than air fryers. However, they will require a little bit of oil to cook food.
Toaster ovens are sturdy when compared to plastic air fryers. But no doubt air fryers have much less space due to their compactness.
Best Air fryer Toaster Ovens
Best Air fryer Toaster Oven:
Breville BOV900BSS – Best Air fryer toaster oven
Instant Omni Plus XL -Best Overall
Ninja DT201 Foodi – Air fryer toaster oven
Cuisinart TOA-60 -Air fryer with a toaster oven
Cosori CO130 Countertop toaster Oven
Cuisinart TOA-65 – Toaster oven with air fryer settings
Comparison chart
| | | | | | | |
| --- | --- | --- | --- | --- | --- | --- |
| Name | Breville BOV900BSS | Instant Omni Plus XL | Ninja DT201 Foodi | Cuisinart TOA-60 | Cuisinart TOA-65 | Cosori CO130 |
| Dimension (inches) | 8.5 x 26 x 17 | 20 x 20 x 17.5 | 17.09 x 20.22 x 13.34 | 15.5 x 16 x 14 | 17 x 21.73 x 15.75 | 23 x 19.75 x 17 |
| Weight | 38.9 lbs | 29.8 lbs | 42.9 lbs | 21 lbs | 20.3lbs | 27.4 lbs |
| Capacity | 28 L | 26 L | 12lb | 4lb | 17L | 30L |
| Material | Brushed Stainless Steel | Stainless Steel, Plastic | Stainless Steel, Plastic | Stainless Steel | Steel | Stainless Steel |
| Digital Display | Yes | Yes | Yes | Yes | Yes | Yes |
Breville BOV900BSS is our best Air fryer toaster oven that you can trust. Breville is a well-known kitchen appliance company and their customer support is awesome.
This Breville BOV900BSS model comes with a cooking capacity of 28 L. The inside material is made of brushed stainless steel. It comes with a digital display to set cooking methods, time & temperature with suitable rotary knobs.
Breville BOV900BSS operates at 1800 watts of power with a voltage rating of 110-120 Volts.
Size: When we looked at the cooking space of this model, 28 L is a lot. It is best for toasting 9 slices of bread, roasting 14 pounds of turkey, and air fry favorites like French fries.
Slow cook with a 5-quart Dutch oven and comfortably fit most 9-inch x 13-inch pans and 12-cup muffin trays.
With 13 cooking functions, it is one of the best appliances for cooking and worth investing money into it. The different cooking modes include – Toast, Bagel, Broil, Bake, Roast, Warm, Pizza, Proof, Airfry, Reheat, Cookies, Slow Cook, & dehydrate.
The LCD display makes it easy to choose from these different cooking modes easy. You can select the modes with the help of the rotary knob provided below the LCD display. Other knobs are provided for temperature settings & time.
You can even change the temperature gauge from F to C easily by pushing a single button. So no more worries about following European food recipes.
When it comes to racks & other accessories, it has 4 different racks that you can use for large family meals.
This Breville air fryer toaster oven is listed as a higher-priced product but you can use it as an air fryer, dehydrator, slow cooker, and a conventional oven easily.
The model comes with 2 years warranty which justifies the price point as well as the brand value.
PowerXL Air Fryer is one of the Best Value for Money air fryer toaster ovens that you can go for. With this PowerXL Air Fryer with a toaster oven, you'll get the best value for money.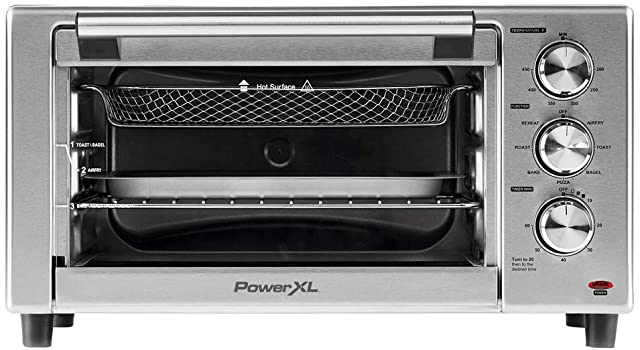 It comes with a capacity of 4-pound turkey cooking. The dimension of this PowerXL air fryer is – 12.5" x 10".
It includes a nonstick grill grate, nonstick griddle pan, stainless steel mesh fry basket, baking pan, stainless steel roasting rack, rotisserie spit, egg/muffin pan, and drip tray with a recipe book.
The model is made of solid stainless steel and weighs around 24.4 pounds.
You can cook an entire 10 lb chicken, grill six huge burgers, rotisserie kebabs, bake desserts, and more.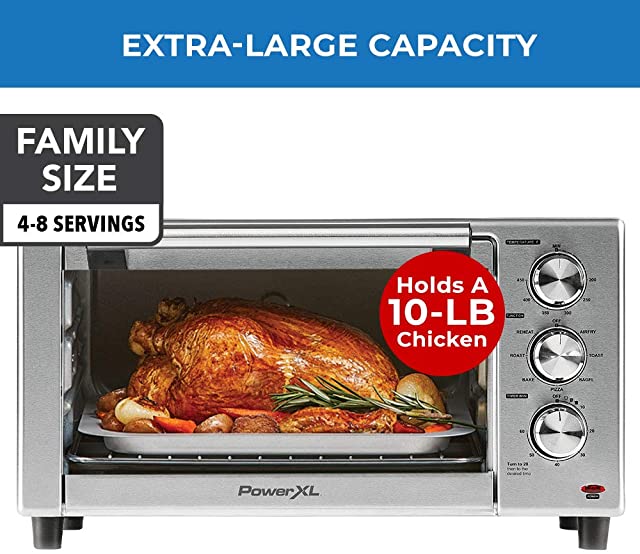 However, it doesn't come with an LCD display and has only 8 intuitive pre-sets to choose from. It offers grill, air fry/grill, air fry, broil, pizza/bake, toast/bagel, rotisserie, reheat, or program your own time and temperature. The knobs are rotary and do feel premium.
The stainless steel cooking rack, mesh fry basket, and egg/muffin pan are dishwasher-safe and easy to use.
Instant Omni Plus XL
The instant Omni Plus Xl is another budget air fryer toaster oven that you can opt for. The Instant brand is well known for its instant pressure cookers, slow cooker, and blenders.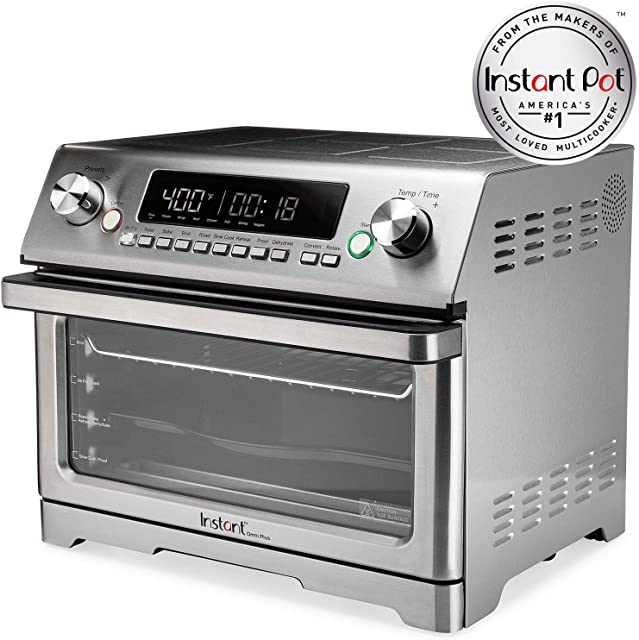 This Omni Plus XL comes with 11 pre-set cooking functions that you can choose from – use. Air fry, dehydrate toast, roast, bake, broil, slow cook, proof, convection, rotisserie, or reheat.
With a 26 L large capacity oven, you can toast 6 pieces of bread at the same time, bake a 12" pizza, make a cake, or even roast a whole chicken easily.
It comes with everything you need to start cooking — An oven rack, cooking pan, air fryer basket, rotisserie spits and forks, and a rotisserie lift.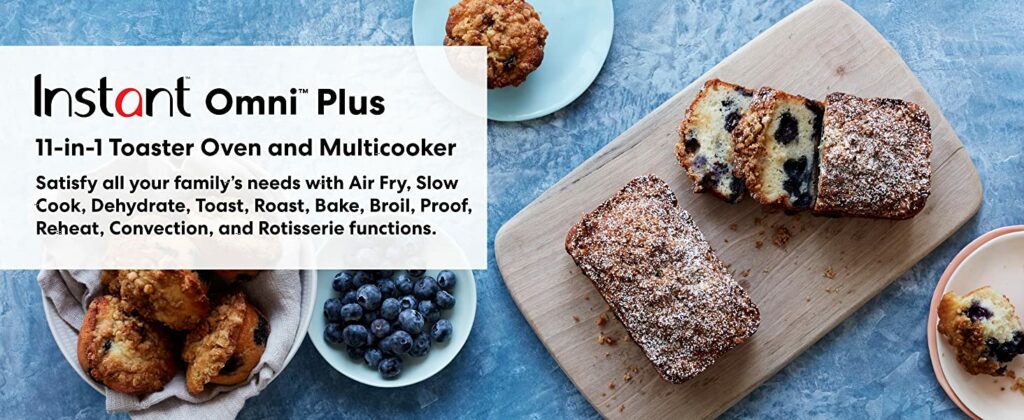 The LCD display with rotary knobs makes it easy for choosing the right setting with a messy hand.
It's Loud: Many of these types of ovens can be quite loud, though this one is louder than most.
Initial Plastic Smell: It's not uncommon for a brand-new appliance to smell funky when you first use it, and while it will fade over time, the plastic smell will be quite strong when you first get it out of the box.