Air fryers with auto shutoff features comes in handy when you're cooking.
It prevent foods from burning and also maintain the taste of food properly.
So in this article, we're going to help you to find the best air fryer with auto shutoff feature and other useful features, which we'll talk about in a minute.
Let's get started:
Best Air Fryer with Auto Shut Off Feature
Chefman air fryers are a complete solution for cooking. You can use the same air fryer to air fry, Roast & Bake food. That's why this model is our best pick.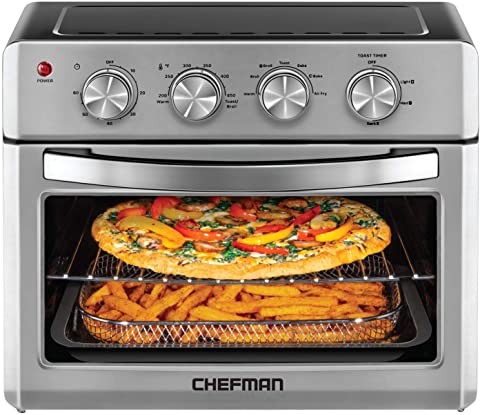 This model comes with 1500 Watts, 120 Volts power. It comes with auto-shutoff feature and beeps when the cooking is done. The toaster oven shuts off when the door is opened.
The model is best for a family of 4 or more. It has the space of 26 QT, you can use it for mini parties too. The spacious 25-litre capacity fits 6 slices of toast or roasts a 5.5lb chicken so you can make plenty of food for the entire family.
It comes with all rotary dials for temperature setting, timer, food setting, and a separate toast timer setting. Some might say, other air fryers have a digital display for this but believe me when you're actually using this type of heavy cookware, it's best to use physical buttons for settings.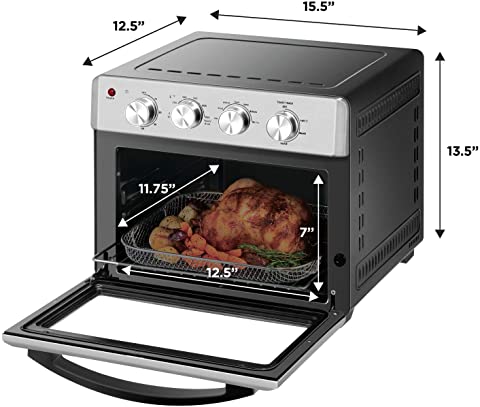 The temp ranges from 200-450 F. Within this range, the versatile 7-in-1 appliance air fries, bakes, broils, toast more easily and saves your money in the long run.
The included broil pan, flat wire rack, air fry basket, and removable crumb tray are dishwasher safe, while the interior walls are nonstick, easy to clean up.
We all want to get the best deal, but premium brands charges more without any reason, isn't?
For those who are looking for a budget-friendly air fryer with an auto-shutoff feature, this Dash DCA model is one of the best. It comes with a lot of features which we'll talk about in a minute.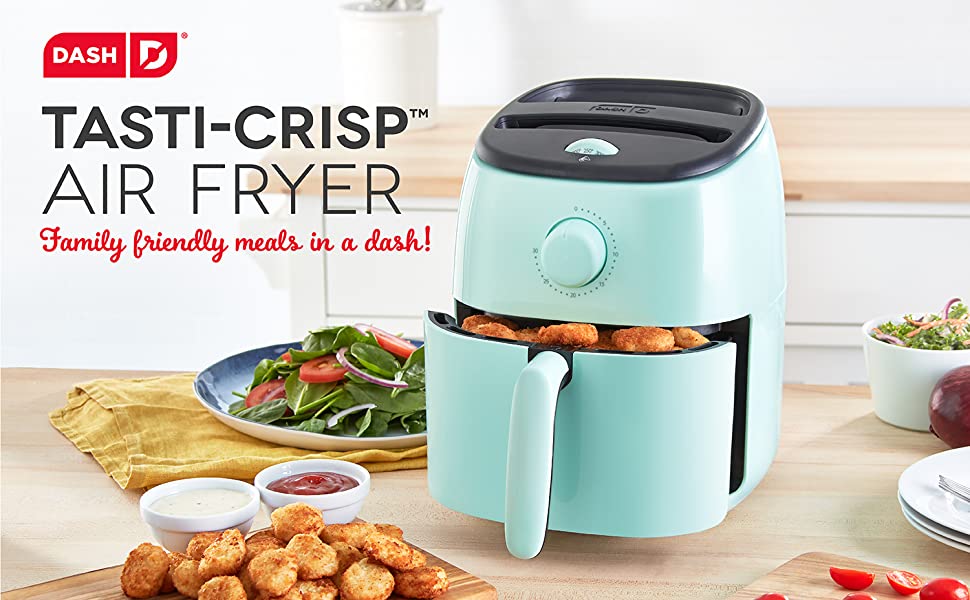 The model is 1000 watt power and has a cooking capacity of 2.6 QT. This is the best air fryer for a small family or wants to spend around $50.
Surprisingly it comes with auto shutoff feature and has a rotary timer and temperature knob. The temperature ranges up to 400 F.
The unit turns off when the timer ends. It also turns off when the basket is pulled out. If you want to turn the power off when the timer is not finished you could just unplug it and timer will finish without power.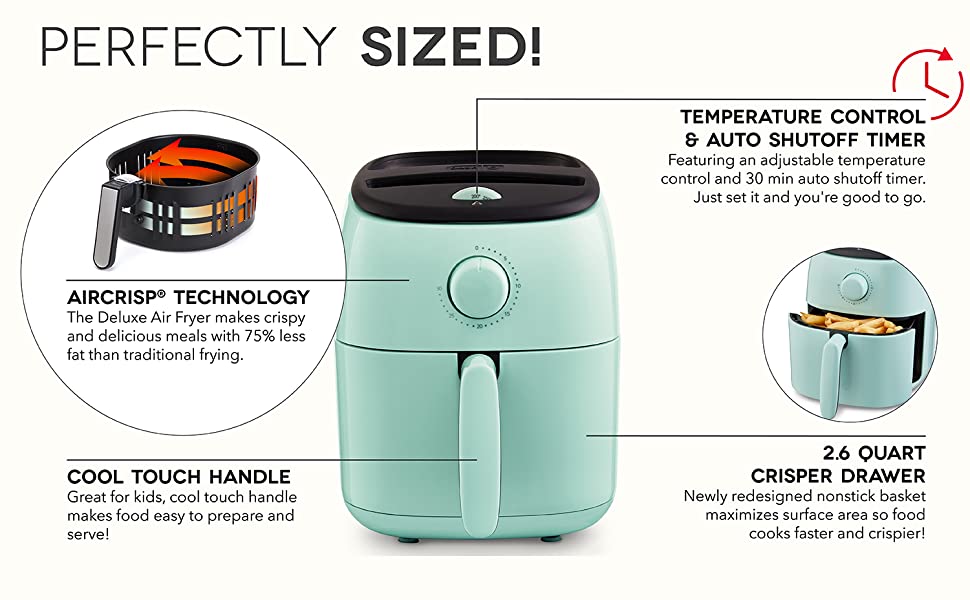 Due to its compact size, it's best for a smaller kitchen, college dorm life, or camper/RV traveling.
It comes with 6 different color options and a 1-year warranty. Dash is an American brand with a better customer support system.
For those who really wanted to buy a compact Chefman air fryer then this 6.5 L space saving model will be the best fit for you.
It comes in 3 different styles: with analog control, digital control & one with digital controls with window. However, the value for money would be digital display control, as per our testing.
The model is powered by 1700 Watts/120 Volts, so you can easily air fry chicken, steaks & fries. The temperature range from 175-400°F allows you to cook at your desired temperature.
According to Chefman, you can air fry vegetables, pizza, frozen foods using at least 98% less oil than traditional fryers. Now that's a big improvement if you'e health conscious like us.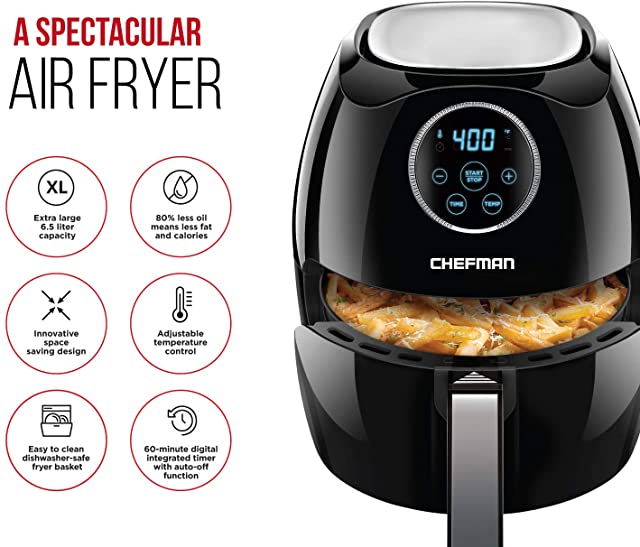 Plus it's so easy to use. You've to set the timer depending upon the food type and let it cook. Once the timer completed, the air fryer will auto shutoff itself and you don't have to worry about burnt food.
It comes with a non-stick basket, which is dishwasher safe. The inner area is non-stick coated, so if your air fryer is peeling off or worried about it, use a soft sponge to clean.
there is no post for a best air fryer with auto-shutoff list. Pick two best air fryer around $100 and the rest is around $50 -60.

Describer how auto shutoff function works for the specific models and explain what is auto shutoff function is