If you're looking for an air fryer with a dehydrator option, then you're in the right article.
When buying an appliance, you want to get the best out of it. In this case, you're buying an air fryer dehydrator combo. You'll get the best value for money for this.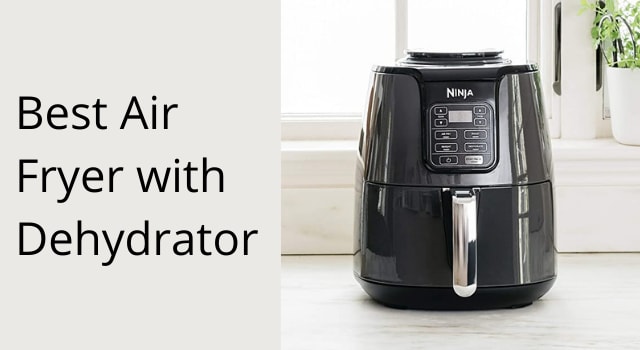 Best Air Fryer with Dehydrator
GoWISE is a well-known name in the Air Fryer space. They also have other kitchen appliances like ovens, pressure cookers, blenders, indoor grills, etc.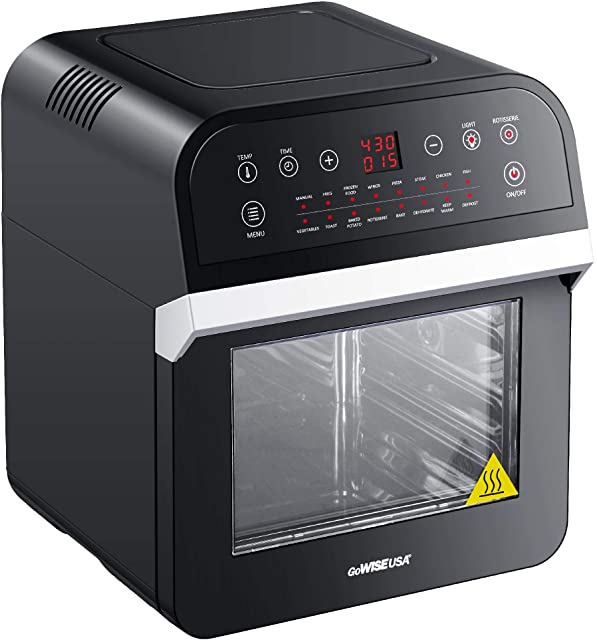 This GoWISE GW44800 Air Fryer comes with 1600-watt power and Rapid-Air Technology which enables faster frying, baking, roasting, and rotisserie all at the touch of a button and in a fraction of the time.
The model comes with a dehydrate option which enables low-temperature heating with a longer duration time.
Features:
Watts: 1600 watts.
Cooking Space: 12.7 quarts
Dehydrator: Yes, up to 8 hours.
Temperature Range: 120°F – 430°F.
Presets: 15.
Defrost: Yes
Rotisserie: Yes.
Accessories: Yes, 10 included.
The enormous cooking space of 12.7 quarts can benefit not only for dehydrating a lot of foods in one go but also you can air frying, chicken nuggets, and french fries within minutes.
Another good news is that this GoWISE Delux model comes with a built-in rotisserie, making it easy to roast or bbq chicken, kabab, and fish easily.
It comes with a lot of accessories (10, to be exact) to make your cooking experience much smoother. The 10 accessories include a rotisserie tong, rotisserie rod, oven rack, drip pan, skewer rotisserie, rotisserie cage, rotisserie steak cage, shallow mesh basket, and two mesh trays.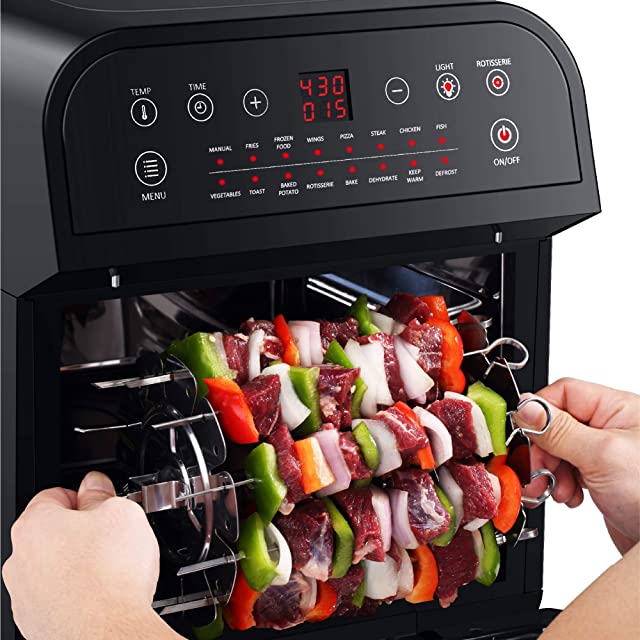 The model temperature ranges from 120°F – 430°F and comes with 15 preset settings for frying, baking, and toasting.
While all of them are great but these 15 settings can be manually adjustable, giving more control over the food you cook.
This GOWISE model has a 1-year warranty and free lifetime support from GoWISE USA. So that you don't have to worry about their product quality. You can check the GoWISE GW44800 Delux model price here.
The Ninja AF101 model is one of the most popular air fryers that everyone can rely on. This model was released in August 2018. Since then working fine for most of the users.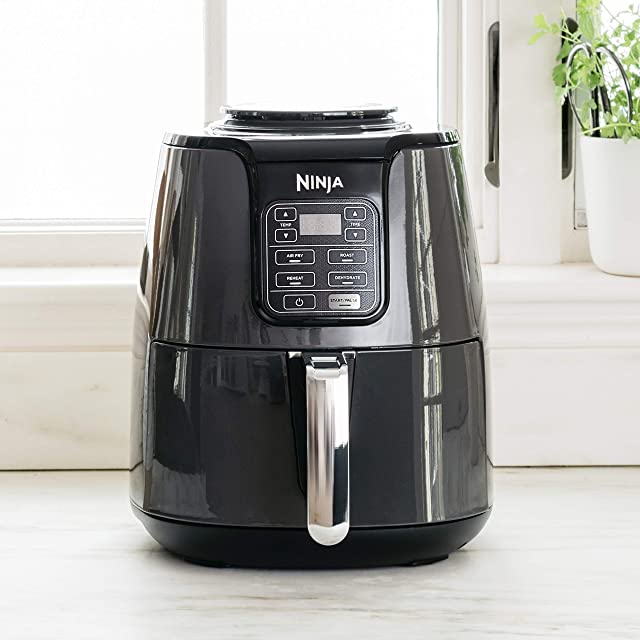 Their quality is top-notch, and yes they cost a little bit more than other air fryers but hey peace of mind is something that you don't want to mess with.
This model is 1550-watt powered, with a cooking capacity of 4 quarts.
You can use this Ninja air fryer as a dehydrator easily because of its low fan speed and low temperature. Even there is a stainless steel rack that you can use to put slices of bananas, apples, and other veggies.
The temperature ranges between 105°F–400°F which will remove moisture from your food easily. Just remember to preheat the air fryer for 3 mins before dehydrating foods.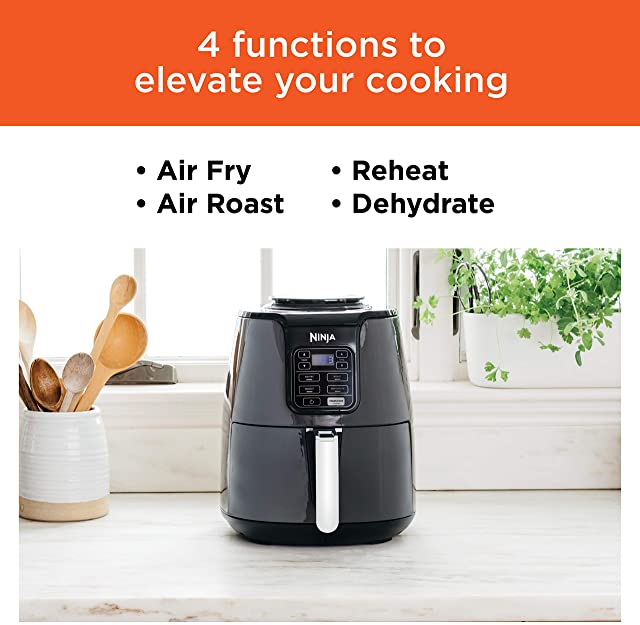 The model comes with air fry, roast, dehydrate, and reheat modes along with start/pause and up-down buttons for time and temperature settings. A small screen shows the time and temperature. All of this is conveniently placed on the front side of the air fryer.
You can check the Ninja AF101 model price here.
While the 2 air fryers listed above are best in terms of their quality, customer support, and feature, more affordable air fryers with dehydrator options are here on the market.
KOIOS is an affordable air fryer that has a dehydrating option. Not only that, this model is powered by 1800 watts, with a cooking space of 7.8 quarts. This alone provides great value for money.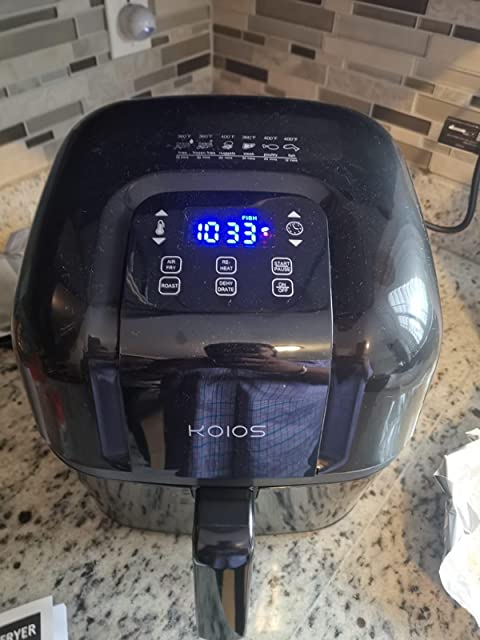 It has 4 options, dehydrator, air fry, roast, & reheat. The temperature ranges from 105°F–400°F allowing you to cook most of the food easily.
The cookbook with 100 recipes will add much more value when it comes to cooking, no more searching about what can you cook on your air fryer.
The non-stick detachable basket isn't dishwasher safe and has to clean it using a mild sponge or the coating will peel off.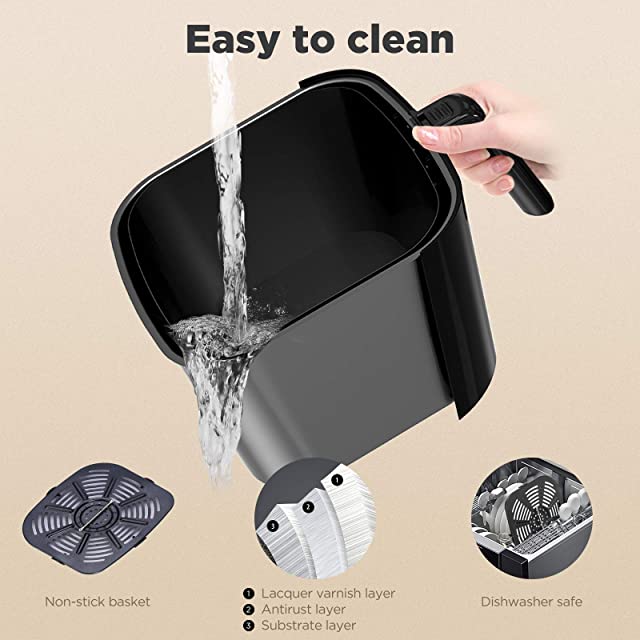 The model comes with a 1-year warranty and hassle-free lifetime support. For any quality issues, KOIOS provides a full refund or sends a new replacement to the customer, as listed on Amazon.com. Check it out here.
Another affordable model from GoWISE USA. With their quality products, you get hassle-free customer support.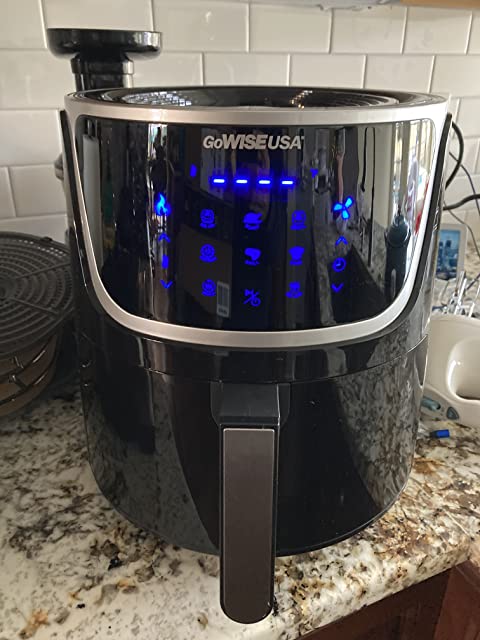 This GW22956 model is powered by 1700 watts with a temperature range of 90 F-400 F, making it the best budget-friendly air fryer dehydrator combo.
It's specifically made for dehydrating food with an air fryer as the temperature starts from 90 F and goes up to 400 F. Also the period when selecting dehydrate option is between 2 hours to 24 hours.
As per the specification, this GW22956 model also helps to preserve enzymes and other nutrients when dehydrating foods like fruits, herbs, and beef jerky.
It comes with 8 presets to give you control of what you can cook, all of them are manually adjustable. You can air fry, roast, broil, dehydrate, grill, bake, reheat, or keep warm all in 1 appliance.
It comes with 3 dehydrating racks, one PFOA-free non-stick coated basket, and a recipe book with over 100 recipes. The non-stick basket cooking space measures to be 10″ X 9.5″ X 4″.
You can check the price here.
Benefits of Air Fryer as Dehydrator
Some of the benefits of using an air fryer as a dehydrator:
Price: You'll get two works done for the price of one. Don't have to buy a separate dehydrator.
Easy storage: The air fryer is compact and thus making it easy to store in the kitchen.
Other Accessories: Most air fryer comes with other options like a rotisserie, defrost, reheat, and bake, making it a value-for-money choice.
Conclusion
We hope that you find the best air fryer with a dehydrator option that preserves the enzymes in your food. For this, we recommend GoWISE GW44800 Air Fryer (12.7 qt) or GoWISE USA GW22956 Air Fryer (7 qt) model according to your budget.