Air fryers are super hot when working, mostly around 400 F.
When you placed it in your kitchen this intense heat can be a cause of cracking your granite or marble countertop. To protect your countertop you can use a heat-resistant mat that will ensure your safety.
In this article we're going to list down the best heat resistance mat for your air fryer.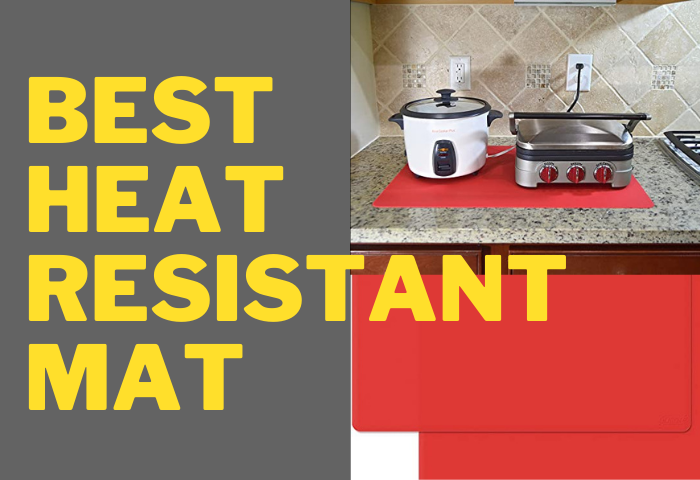 Let's get started:
Best Heat Resistant Mat for air fryer in 2022
Best heat resistant mat for air fryer:
What to look for in a heat resistant mat?
When buying a heat resistant mat for countertops there are 5 different things you should always remember:
Food grade level/ FDA approved or not
When using a heat resistant mat, you will also use it for cutting veggies, making pastry, and sometimes put boiled foods like eggs or potatoes in it.
If it isn't FDA approved or 100% BPA free then there are many side effects that can happen to your body. So while buying a heat-resistant mat look for if it BPA free or not and best if it's FDA certified.
Heat resistance mat quality
Most of the heat resistant mats are made of silicone. Silicone can withstand wide temperature ranges from -45 F to +480 F. So that sudden changes of temperature is safe for these mats.
If your mat is smelling burning, then immediately turn off your air fryer and remove the mat from the countertop.
When buying a mat, make sure to check if it can fit your countertops easily or not. For a standard air fryer, 10×10 inches mats will be great but you can use a large one for other hot appliances too.
In this case, we recommend Smithcraft for small space and EPHome mat for large kitchen space.
Gasare silicone mats are one of the best mats for air fryers. They can operate from -40°F to 446°F. So you can put them in the freezer as well as under a hot appliance like an air fryer.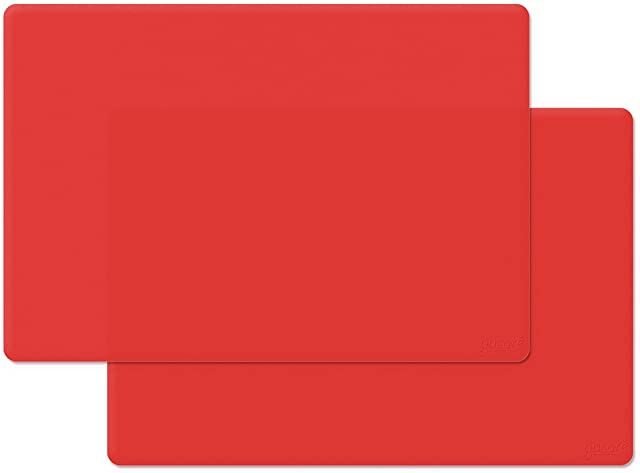 Features:
Dimension: 25″ x 17″
Washable: Yes
Non slippery: Yes
Temperature range: -40 F to 446 F
The size of this extra large and thick mat is 25″ x 17″ x 1.4 mm. The 1.4 mm thickness ensures that it'll protect your granite countertop properly.
This Gasare mat is non-slippery, and is made of strong and durable food-grade silicone material.
You can place this mat under the microwave, air fryer, induction stove, toaster oven, coffee maker, and other heating appliances as long as its temperature is around 446°F.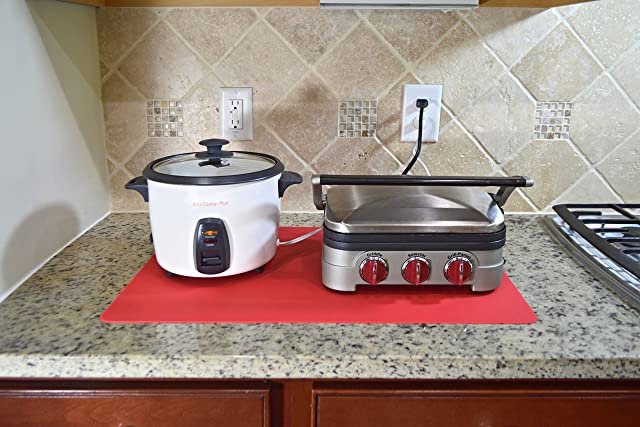 It is washable, you just need to clean it with soapy water to remove stains, greases or leftovers.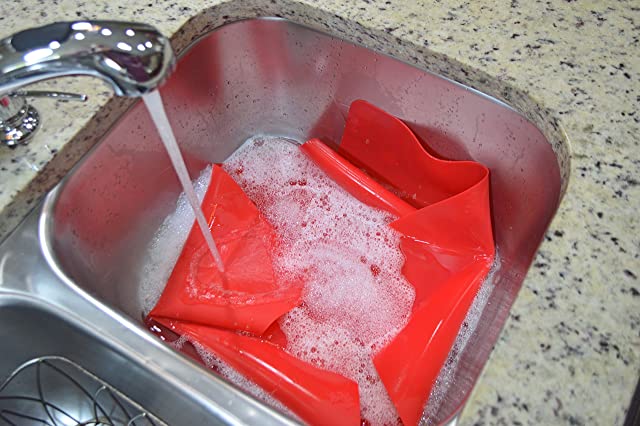 It comes with 2 different color options- Red and Taupe. Both look great and work exactly the same but Red color is our favorite as it'll not look dirty for a longer time.
Cons:
Not wrinkle free
After usage of around 8 to 10 months color fades
Belle is another brand that makes silicone countertop mats for air fryers and other kitchen appliances.
Now, this Belle mat is made of food-grade silicone and it's free of BPA, PVC, Lead, Latex, and Phthalates. You can use it in your dining table.
The tan color is another addition to make your kitchen beautiful.
This mat can be used from the -45 F to 400 F range. At 400 F, you can air fry your fries, chicken wings and you can place this mat under the air fryer to protect your countertop.
It is easy to use, wash, and store. Just roll up the mat after cleaning with soap and store it in your kitchen drawer.
However, when purchased new, it's hard to get it to stay laying totally flat. After some usage, it's totally laying flat.
Some users also reported that it has a vinyl smell in new condition. However, when we tested this, we didn't get any sorts of smells.
When looking for budget friendly silicone mat for your small air fryers, then this Smithcraft mat will be the best buy.
With the size of 7.5 inch x 7.5 inch, you can place a small air fryer on top of it. It comes in square shape and in Black color.
It is made from 100% BPA free food grade silicones so that you don't have to worry about using it your kitchen.
You can use it as a trivet, hot pad, hot mat, protector, pot holder, jar opener, spoon rest, and drying mat.
It can withstand extreme temperatures from -20 to +480 F. You can use it as a protector for countertop, table, stove, oven, or others while cooking in an air fryer or a microwave oven.
It comes in one set of 4 pieces with different color option to choose from with lifetime no hassle free-replacement guarantee.
EPHome nonstick heat resistant mats are best for large countertops. You can place it and use daily and at the weekend you can clean it easily.
The dimension of this big heat resistant mat is 23.6 x 15.75 inch. It can be used as a fondant mat, pastry mat, silicone Table Mat, Countertop Protector. It also protects your countertop from scratches, burns, and other things, ideal for food prep and serving.
It's made of durable EPHome Superior Silicone, thus provides heat resistant protection between -40 to 482 F.
It comes in different color options so you can match it with your kitchen interiors easily.
The Nonstick surface is super easy to clean and dishwasher safe. The mat is waterproof, super flexible, and durable so that storing it is easy. You can easily cut the mat to fit different sizes and shapes, provided it has a length of 23.6 inches.
FAQs
Are silicone mats heat resistant?
Silicone mats are heat resistant. They can work from -45 F to +445 F temperature range. It also depends on the thickness of the mat. Generally, the mat should have 1.5 mm thickness for proper heat resistance.
What is the different usage of Heat Resistant mats?
You can use a heat resistant mat as a countertop protector for hot appliances, pastry mat, table mat, fondant mat and food preparation & serving purposes.
Temperature Range of a Heat Resistant Mat?
The heat resistant mats can withstand from -45 F to 480 F temperature depending upon the thickness of the mat.
Are Heat Resistant Mats are Travel friendly?
Yes heat resistant mats are travel friendly as they lightweight and does require after rolling.